One of the most amazing creatures in all the world, apart from dragons obviously (WHICH ARE THE SUPERIOR-EST because umm, FLYING??? FIRE-BREATHING??? KILLING PEOPLE??? CONQUERING THE WORLD??? BEING AMAZING ALL THE TIME??? DID I MENTION FLYING??? SEE? Superior!) are VOLCRA.
I have reasons prepared. Because we're high on tyranny here and therefore convincing people to accept the queen's opinions is NECESSARY. The reasons go along the lines of such:
THEY CAN FLY
And flying is obviously a sign of IMMENSE SUPERIORITY and power (because i say so)
Which is also the reason we must all learn to fly
Except if you're fine being powerless??
Which is also pretty okay because READING IS STILL POSSIBLE like that
Although power might mean LARGER BOOK COLLECTIONS???
So conclusion is thus: You're missing out on a lot, smol alien of mine. I SUGGEST YOU RECONSIDER some life decisions.
They are SCARY AND POWERFUL AND AMAZING
DID I MENTION AMAZING
LEIGH BARDUGO CREATED THEM so you must obviously worship
They eat people
I mean, SOME OF THOSE REASONS CAN BE CONSIDERED??? Also they didn't kidnap me the way you smol olives imagined (which was just #rude), SO BE GLAD. Buuuuut….. I obviously adopted one during the time I was gone SO I WAS BUSY CARING FOR IT, which is the reason blogging was… slightly neglected?
YES. THAT'S PRETTY MUCH WHAT HAPPENED.
Or…. would have happened if we were creating stories here. YES, THEN THAT WOULD HAVE BEEN ACCURATE.
But unfortunately, the world is EVIL and therefore we're NOT creating stories (ALTHOUGH WE KIND OF ALSO ARE??) So where did the olive queen, aka "I" disappear to? The deep dark corners of the internet and my house, folks. I went exploring and found some more olives to befriend and that is also how I came across the volcra I adopted.
….. also I had finals. WHICH WERE TORTUROUS BASICALLY. And then I got sick right in the middle of finals. THEN I DECIDED ALL I WANTED TO DO WAS READ. So blogging was shoo-ed away. THEN MY VOLCRA CAME ALONG and we played ball. So I was busy like that.
But the good news is that I'M HERE NOW! I suspect there's some stuff we need to clear up SUCH AS WHAT I'VE BEEN UP TO (flailing over Six of Crows is the answer, IF ANYONE WAS WONDERING) and the mysterious hints in the title (WHICH I SHALL COME TO IN A MOMENT) and how my finals went (THEY WENT BAD AND WE DON'T TALK ABOUT IT. BYE), so to provide reasons, and also because I'm amazing and everything, WE SHALL PROCEED WITH SOME Q&A's by the end of which you shall know all about… well, EVERYTHING. (Such as the time I disappeared into a black hole and therefore was unable to post the whole of February)
SO WHY DID YOU LEAVE US ALL HANGING AGAIN?
Finals decided it might be FUN to try and murder me
I then got sick but still had to study #Rude
I WANTED TO READ which, unfortunately, REQUIRED TIME
I redesigned the blog
ALSO, I created a homepage and am pretty happy??
And replied to comments from 3 months ago (OOPS, MY BAD)
SO I NEEDED SOME TIME OFF OKAY
And I planned out content SO I SHALL BE CONSISTENT HENCEFORTH
Or at least that is what is hoped, but WHO KNOWS
This is also why I haven't been consistently blog hopping either OR REPLYING TO MESSAGES AND STUFF. I'm incredibly sorry, AND IT WASN'T BECAUSE I WAS IGNORING YOU OR ANYTHING, I was just BUSY. But I'll get to your posts/comments/messages AND EVERYTHING ELSE in a bit, i swear.
YOUR FINALS ARE OVER NOW, MY QUEEN???
…. no. I have one last exam left on the 13th WHICH IS SCIENCE (and therefore the ULTIMATE form of torture – but like cursed child is still worse?? – I suck at Science btw) but i'm still here because… I HAD SOME TIME? And I missed blogging I guess, BUT WE DO NOT ATONE TO SUCH WEAKNESS.
WHAT ARE YOUR QUEENLY PLANS FOR THE FUTURE (aka the remainder of March)??
I'M GOING TO INDIA!* – After 2 years, 1 month and 18 days**, I AM GOING TO INDIA!! ON THE 13TH!! WHICH IS EXTREMELY EXCITING!! AND I'M EXCITED!! HENCE THE SCREAMING!! Excuse my soul, BUT?? LIKE?? I'M?? SO EXCITED?? i can't wait to see dogs again AND ALL THE NOISE IN THE STREETS and so much traffic outside the window you can't even hear the TV at 9 in the night AND I WANT TO EAT KACCHA MANGO BITE (the candy) because apparently you don't get it where i live??? AND DID I MENTION I MISS ALL THE NOISE?? And also the CROWS.

I WAS GOING TO GO TO A BOOKSTORE – But… i'm not. Mostly because of reasons such as: 1) There's still covid EVERYWHERE 2) me freaking out about what I'd do if the bookstore didn't have the books i wanted. So in the end I just bought books off of amazon, AND THEY ARRIVED IN INDIA so I haven't seen them yet, BUT AM INSANELY EXCITED. And also SLIGHTLY impatient but shhh.

READING ALL THE BOOKS – I've made these HUGE HUGE TBR's (as one does) with all the books I want to read after exams are done BECAUSE EXCITEMENT. And thinking about reading ALL the books is the next best thing to reading them am i right? SEE #genius. Not to say I haven't been reading in between exams BECAUSE I HAVE. I finished the first 3 heartstopper volumes AND ALSO SIX OF CROWS and am currently 10% through The House in the Cerulean Sea AND IT'S SERIOUSLY BEEN AMAZING.
BLOGGING PLANS – i'm actually SO EXCITED about this too, BECAUSE I HAVE PLANS. Exciting ones***. And i'm going to post more BEFORE I FORGET ALL MY IDEAS and not keep doubting whether i've even read enough books to write recommendation posts. I REALLY WANT TO WRITE RECOMMENDATION POSTS SO BAD. But… i'm SCARED. There shall also be some (SCREAMY) reviews where me and my keyboard flail awkwardly and do nothing, BUT REVIEWS HAVE BEEN EXCITING ME LATELY?? Which is weird??
---
*i can see how this might sound confusing to some confused olives among you. 'I thought you lived in India, Anoushka?' you might say. Or, 'Why would you be so excited to go to India, Olive Queen? I DO NOT UNDERSTAND THIS', some others might wonder. So I guess a little bit of backstory is necessary here? OBVIOUSLY YOU MIGHT NOT CARE AT ALL AND JUST CONTINUE ON BECAUSE YOU DON'T BOTHER ENOUGH, but we shall imagine you aren't so heartless. So… I am from India, but live… elsewhere (in Ravka) AND I HAVEN'T VISITED INDIA IN LIKE FOREVER. Obviously, forever means something like 2 years. WE'RE IN THE HABIT OF EXAGGERATION AROUND HERE if you didn't know.
**did you think I actually bothered doing the math?? HA
***HAHAHAHAHAA WHAT DO YOU MEAN I SOUND LIKE I MIGHT END UP DISAPPOINTING YOU
TELL US HOW YOUR FEBRUARY + MARCH WENT IN BULLETS BECAUSE WE MISS BULLETS?
They were both pretty okay i guess? I MEAN THE PROMISE OF INDIA IS KEEPING ME SANE (and also all the new books) and I would be lying if I said that I can fully comprehend the fact that it's already March, BECAUSE I CAN'T. How did February run away so fast?? I HAVE BEEN TRICKED.
IN TERMS OF BETTER NEWS THOUGH, we finally, finally were allowed to go to the school library AND I LITERALLY SCREAMED. There's all these Cassandra Clare books AND ALSO ALL THE RICK RIORDAN BOOKS and they're all new did I mention that?? THEY LOOKED GORGEOUS and I wanted to steal them.
I also reorganized my bookshelf, WHICH MOSTLY HAS (or had until i had to return them, WHICH WAS SAD) ALL THE LIBRARY BOOKS, but still. I HATE arranging things, BUT APPARENTLY I'M OBSESSED WITH ARRANGING BOOKSHELVES??? Bookshelves are amazing.
OKAY NOW THE BULLET POINTS.
Offline school was meh, WHICH BASICALLY MEANS I HATED, but it was still… okay?
I read like 1 book in the whole month of February AND COMEPLETLY FAILED LIKE THAT
Said book was an under-100-page novella, SO YOU SEE THE WHOLE FAILURE THING??
BUT WEBTOONS!! I love them!! Except for some times when I hate them BECAUSE WHY DO WE NEED TO WAIT 1 WHOLE WEEK FOR THE NEXT EPISODE??? #rude
I'm OBSESSED with all the historical fantasy ones AND AM DEVOURING THEM
I raided the entire Maggie Stiefvater section of the library LIKE THE QUEEN THAT I AM, but then had to return all the books BECAUSE TIME LIMIT, and ended up reading NOTHING
But at least I got to stroke the spines of aforementioned books? Which is nice?
The cats still hate me because they're evil
I STILL LOVE OLIVES BY THE WAY
And also raven boys
Gansey Adam Ronan and Blue are my LIFE
BUT I ALSO FELL IN LOVE WITH ALL THE SIX OF CROWS CHARACTERS SO THEY ARE MY LIFE TOO
*confusion and whispers of betrayal* so we must change topic
nothing much happened honestly??
EXCEPT ME TRYING TO THROW PLASTIC KNIVES AND IMAGINE I'M INEJ but i held the knife from the blade side and ended up dropping it BECAUSE I'M CLUMSY
THIS WAS SAD AND HIGHLY HUMILITING SO WE MUST MOVE ON
WHAT IF YOU DID A SHORT SUMMARY OF RECENT TV SHOWS YOU'VE WATCHED??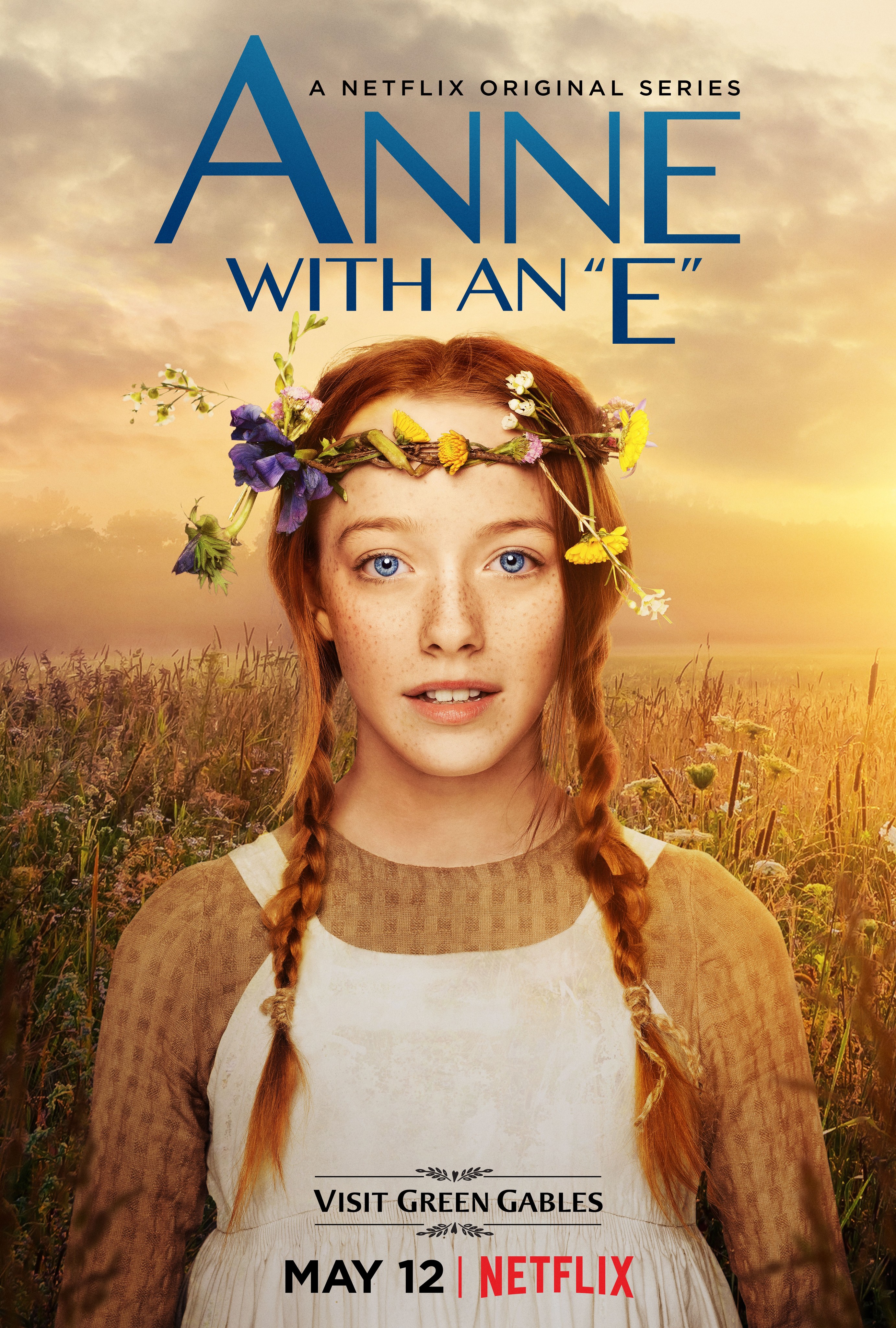 ANNE WITH AN E
I'm rewatching this AND LOVE IT EVEN MORE THAN THE FIRST TIME SOMEHOW?? The characters are all so precious AND HAVE STOLEN MY HEART. I also want to live in this series, because eveything is just so… NICE?? I could seriously watch this FOREVER and not even regret it. I LOVE MATTHEW. Also there's fountain pens, WHICH IS EXCITING.
WHAT IF YOU ALSO TOLD US ABOUT YOUR RECENT READS???
NO. I have reviews and stuff planned so WE SHALL HAVE TO KEEP THE SUSPENSE. But here's a TBR if that satisfies you:
(the book covers are magic portals and clicking on them will transport you to the respective book's Goodreads page)
A Darker Shade of Magic – Basically the name "Kell" sounds so nice?? ALSO THERE'S MENTIONS OF PARALLEL LONDONS or something
Shadow and Bone – I plan on re-reading this series AND THEN DEVOURING EVERYTHING THAT HAS LEIGH BARDUGO'S NAME WRITTIN ON THE COVER
The Cruel Prince – This has a lot of stabbing AND MAYBE I JUST LIKE PEOPLE STABBING EACH OTHER?? it's fun
The Dream Thieves – DO I NEED TO PROVIDE AN EXPLANATION??? Also the cover + title LOOK AND SOUND HEAVENLY. I mean, HOW DO YOU STEAL DREAMS??? I WANT TO KNOW
DID YOU MANAGE TO TAKE OVER THE WORLD WHILE YOU WERE GONE?
YES! I FINALLY, FINALLY after months of exploring, found the dragon lair beneath the library of olives AND BRIBED THEM WITH PROMISES OF CHOCOLATE. Dragons are nice creatures. They accepted my chocolates and ate them and agreed to help me become Queen. We destroyed large green fields full of white flowers together and took away all the libraries from right under people's noses while they were too busy gaping at the dragons in awe, feeling betrayed and crying over all the lies they'd been told about the non-existance of magic and the like. THE DRAGONS ALSO GIFTED ME THE VOLCRA AND WE BECAME FRIENDS. It was nice. Life is amazing.
What have you been up to during the past month??? CAN YOU BELIEVE WE'RE ALREADY IN MARCH?? Do you have finals too OR DID THEY END?? What are you currently reading/watching? THOUGHTS ON VOLCRA?